Want to get the hot tub of your dreams?
Protect Your Spa With A Cover
Don't let your spa go unprotected. With a cover, you can ensure that the water quality will remain maintained, while keeping your operational costs low. At Omaha Hot Tub Company, we have a wide selection of hot tub covers for sale that are crafted with some of the finest materials available to the industry. Complete with a robust design, you can enjoy the benefits of using a cover for years to come.
Top Quality and Efficiency
We offer the highest-quality hot tub covers in the industry, at affordable pricing
You can choose from 14 different colors to match your spa and home perfectly
Each cover is specially made with the dimensions of your spa to ensure a perfect fit and optimal efficiency
All of our hot tub covers are made right here in the USA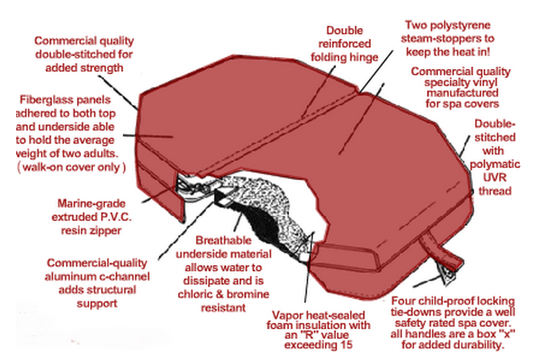 Fiberglass Panel Inserts for "Walk-On" Ability

Energy Efficient 5″-3″ Taper Thickness

Double Stitched for Added Strength

Rubber-Gripped Handles

​Heavy Duty Outdoor Specialized Vinyl

Extended Heavy Duty Vapor Flaps for Extra Seal

Energy Efficient Polystyrene Inserts

Locking Straps on all 4 sides

​Heat-Sealed Moisture Barrier Insert

​MADE IN THE USA
Is your spa cover in need of a replacement? Some warning signs can include:
Rips and tears

Deterioration

Strong odor

Heaviness
Here at Omaha Hot Tub Company, our covers offer an exact fit for every brand. Not to mention that the process is exceptionally easy. Simply measure your corner radius, pick a color and then give us a call at 402-330-6629.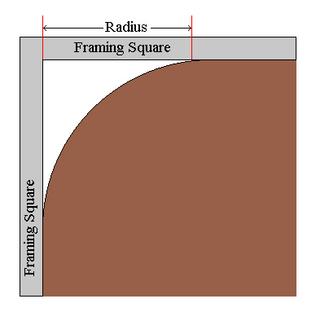 Pick Your Spa Cover Color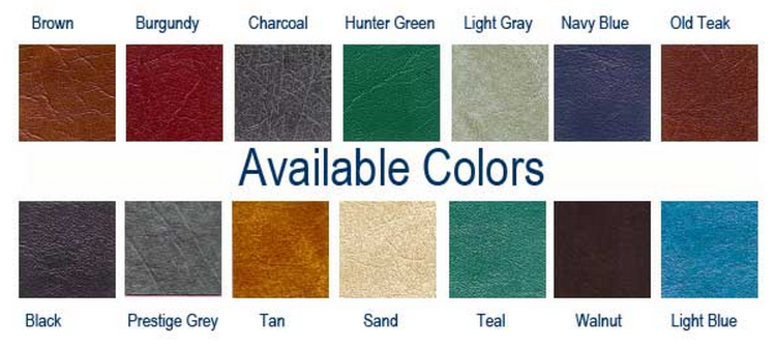 Speak to one of our hot tub experts today about our available covers and accessories to complete your hot tub experience.
Lift and lower your hot tub cover with ease. Our cover lifters are fully compatible with both Sundance® Spas and their matching covers.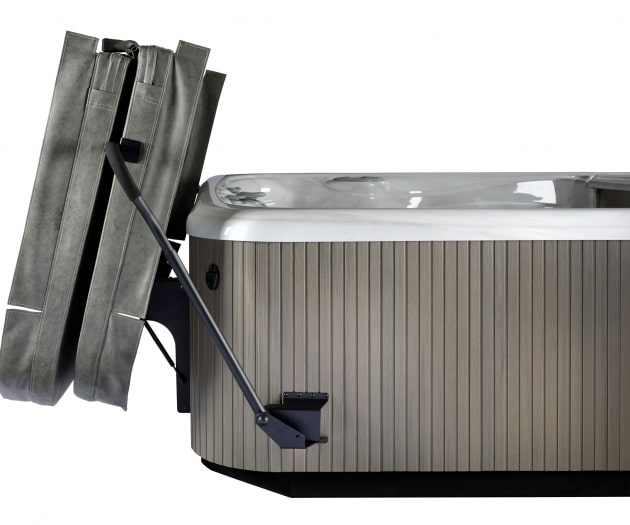 DURABLE & LONG-LASTING
Made with quality materials and designed with all kinds of weather in mind, rain or shine your lifter is built to last.
SAFE & SECURE
Operate your lifter with confidence. A secure installation can fully support the cover without the fear of damage or injury.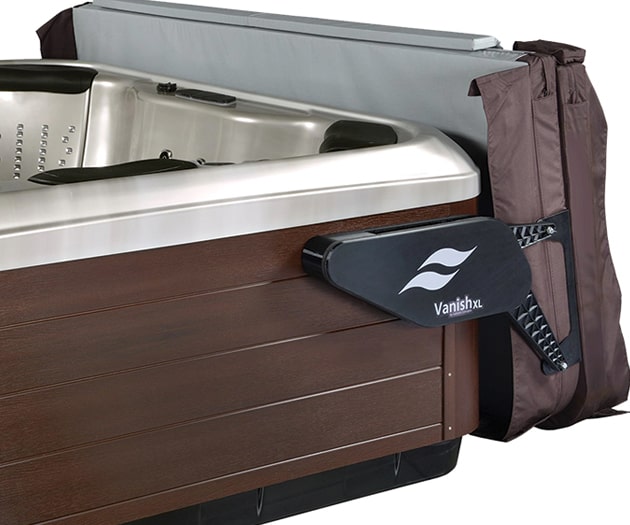 USER-FRIENDLY
Lifting and lowering your cover using a lifter is a simple and quick process, thanks to a trouble-free manual lift.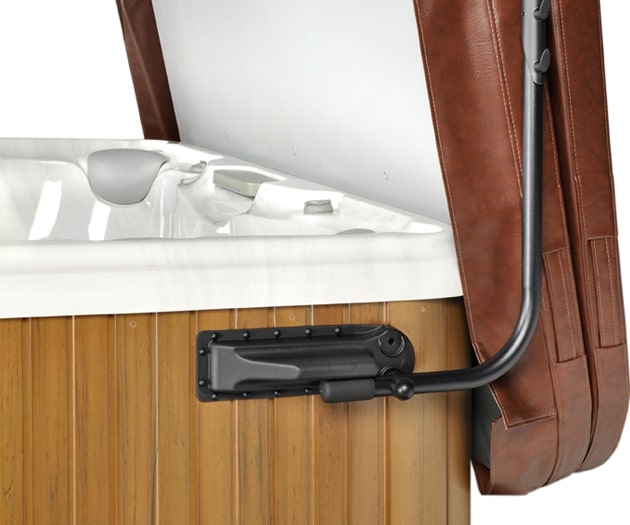 SIMPLE INSTALL
Our cover lifters have only one moving part and a built-in stop mechanism, so installation is simple and fast.
Adding steps can help create a safer and more secure way to enter and exit the spa.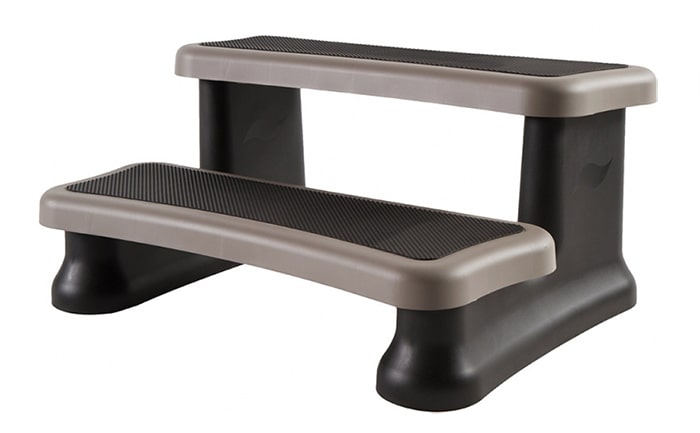 Stylish
Steps are available in a variety of colors and styles to match the cabinetry of your spa and elements of your backyard perfectly.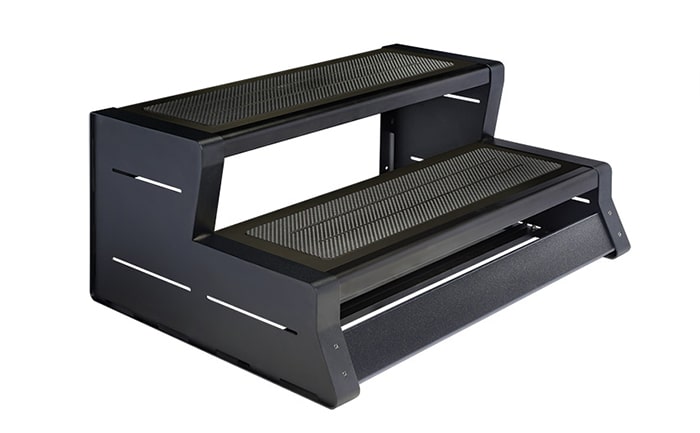 Functional
Hot tub steps can make it easier for users to get in and out of the water, while an underneath storage compartment can keep towels dry.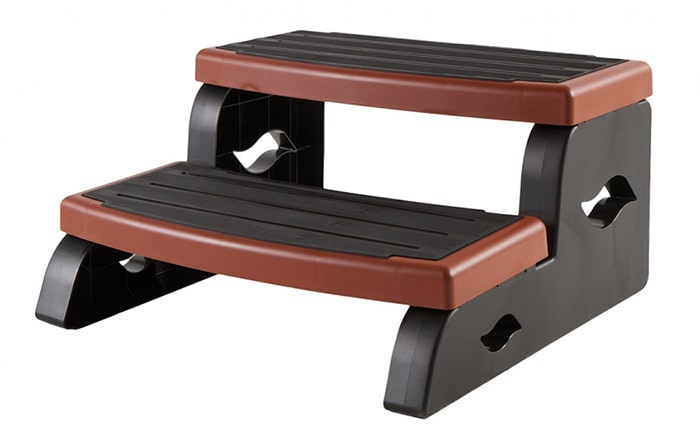 Safe
Equipped with non-slip grip material to help reduce the risk of slips and falls, spa stairs can help to create a safer backyard environment.
BLUEWAVE™ SPA STEREO SYSTEM
Connect your mobile device to your Sundance® Spas using the innovative BlueWave™ Spa Stereo System. The built-in speakers create a premium sound that can be heard from up to 30 feet away, while a marine-grade docking compartment keeps moisture out, effectively preventing water damage. Charge your device while you soak with the USB connection or connect a different device using the AUX port instead. The choice is all yours.